11 Father's Day Gifts for Aging Dads
Father's Day is coming up on Sunday, June 18th this year, which means that it's time to start thinking about what gifts you're going to give him. Shopping for older dads can be tricky, since many of them already own everything they could possibly want. That's why we've done the work for you and rounded up 11 of our top recommendations for gifts for older dads this year:
Electric Razor
If you've noticed that your dad has been nicking himself a lot when he shaves, think about giving him an electric razor if he's been using a manual one. Electric razors feature blades that are less exposed, which lowers the risk of nicks and cuts. Since elderly skin is thinner and takes longer to heal, it's a good idea to do whatever you can to lower the risk of cuts, especially to delicate areas like the face.
Tracking Tiles
If your father is always misplacing essential items like his wallet and keys, consider getting him some tracking fobs that he can attach to them. Apple AirTags and Tile Trackers are the two biggest brands in this space, but others are available as well. The tags connect to an app on a smartphone via Bluetooth so the user can see exactly where their items are, so they're a good gift for an aging dad who is at least a little bit tech savvy.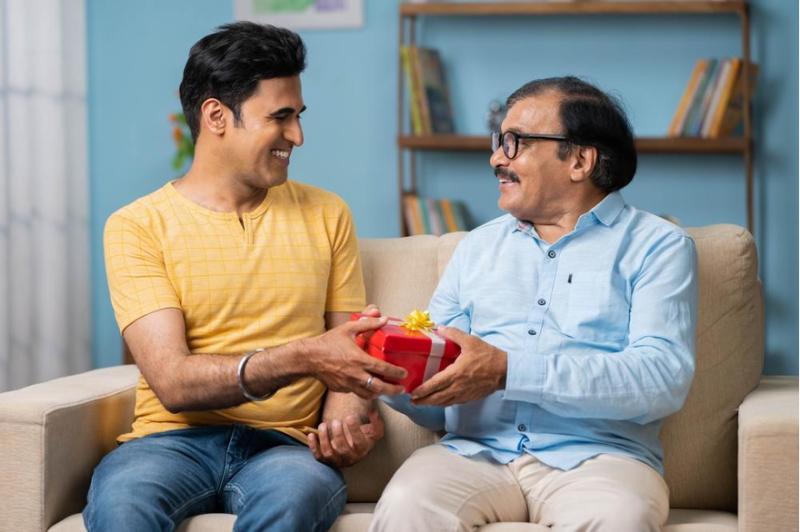 By WESTOCK PRODUCTIONS / Shutterstock.com
Smart Speaker
For seniors with failing eyesight or arthritis in their hands, typing on a computer or tapping on a smartphone can be a chore. It's so much easier for them to just say their question out loud and get an answer — which is exactly what smart speakers do. These speakers connect to WiFi and respond to spoken commands, thanks to built-in voice assistants like Amazon Alexa, Google Assistant and Siri, making them another great gift for tech-savvy aging dads.
Jigsaw Puzzles
Many older adults love to put together jigsaw puzzles, making these an excellent affordable Father's Day gift for aging dads. Choose a jigsaw puzzle with a picture or illustration related to his other interests, such as classic cars, bird watching, or nature photography. Depending on your dad's health, you might want to choose a puzzle with large pieces that will be easier for him to put together.
Large Print Books and Magazines
If your dad is a big reader, then he will no doubt appreciate some new books from his favorite authors or a subscription to a magazine about his interests. If his eyesight is compromised, then seek out large print books that won't require him to use a magnifying glass to read. If reading even large print is too much for him, then consider getting him a subscription to an audiobook service such as Audible instead.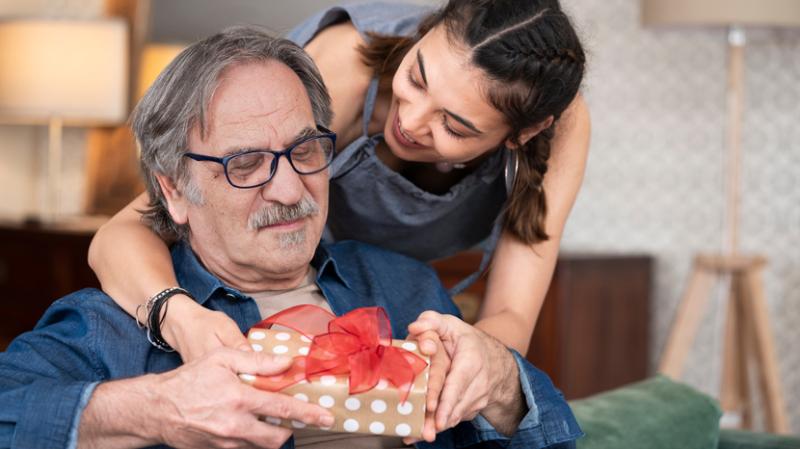 By sebra / Shutterstock.com
Big Display Alarm Clock
Seniors may have trouble reading the time off smartphones and smaller displays, even with their glasses on, so many benefit from using a big display alarm clock that shows the time in huge numbers. If you want to upgrade the gift, then go for a digital calendar that displays the day of the week and the date in addition to the time. This will help your loved one keep track of time passing and help ground them chronologically.
Adaptive Clothing
Traditional clothing can make it difficult for seniors with mobility issues to dress themselves. Adaptive clothing is designed with seniors' needs in mind, incorporating unique features like magnetic buttons and tearaway pants that make it possible for seniors to keep dressing and undressing themselves. This helps them to maintain independence even as they are and feel more in control of their lives.
Slippers and Adaptive Shoes
Wearing non-slip shoes, even inside the house, is one of the most effective things that seniors can do to prevent falls. If your dad doesn't already have a pair of non-skid slippers for inside the house, get him some for Father's Day. You might also want to consider getting him some adaptive footwear for wearing outside of the house, such as some tennis shoes with velcro tabs that make it easy to adjust the fit as his feet swell during the day.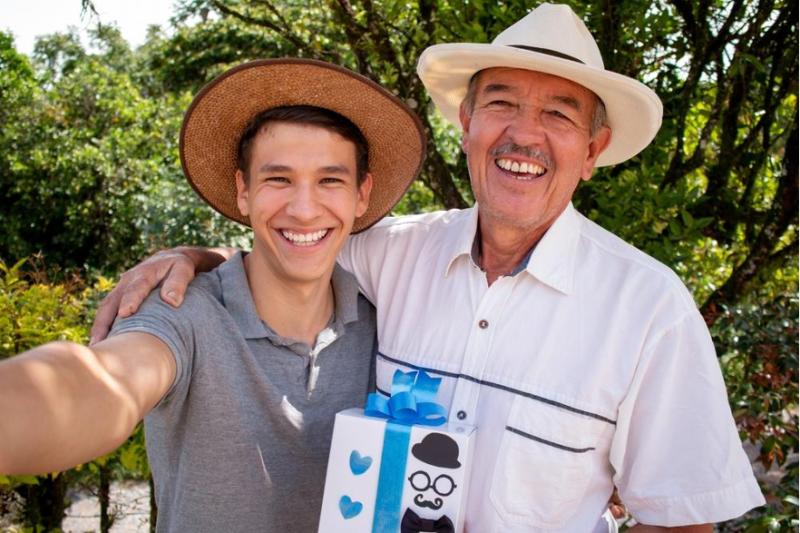 By Anderson Piza / Shutterstock.com
Mobility Aids
Many elderly people are resistant to using mobility aids at first, but these aids can help them stay mobile for longer and improve their quality of life. Note that aids don't have to be wheelchairs or walkers: Automatic jar openers and door knob grips also count as aids! And if your dad refuses to use a cane, he might be persuaded to use a wooden walking stick that is beautiful as well as functional.
Chair Arm Caddy
Nobody likes to waste precious time searching for the remote in the couch cushions for the millionth time when the big game is about to start. If your dad watches a lot of TV, consider getting him a chair arm caddy, which is a fabric organizer that drapes over the arm of a chair or couch. It includes pockets for all the essentials, not just remotes but also phones, magazines and more.
Meal Delivery Service
Grocery shopping and cooking is exhausting, not to mention it involves a lot of physical strength and coordination that they simply might not have. If your elderly dad has mostly been living on unhealthy frozen meals, then give him a subscription to a healthy meal delivery service. Sometimes the meals come pre-cooked, while others send you the ingredients that you need to make a meal from scratch.
What gifts are you planning to give to your aging dad this Father's Day? Have you given any gifts in the past that were particularly successful? Let us know in the comments below!
---
More to Read:
comments powered by

Disqus